planning for a greener la river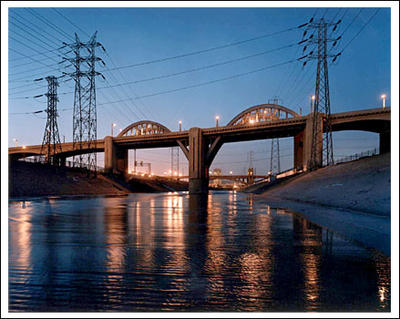 photo by john humble copyright 2005
the
la times
reports that there is a series of 18 public meetings which will help set priorities for restoring habitat and creating parks by the la river. the article starts off by describing the la river, posing the question: "Is it the city's most prominent gutter or a river waiting to be reborn?" my hope is the later. mayor antonio villaraigosa and councilman ed ryes are hoping to "establish the new face of the city." one item up for discussion at these public meetings "is the possibility to removing portions of the river's concret lining which was installed beginning in the 1930's to keep low-lying areas from being inundated during winter storm."
here are a few sites to check out if you have an interest in learning more about the la river.
the los angeles river exhibit:
probably my favorite la river site. you can take a tour from the past, to the present and possibilities of the future. if you click on what you have an interest in, it will take you into these three different worlds. the pictures are great, and i can tell that those who designed this website have great hopes for what the la river could be. check out their links, and you will find most every other site you will want to see about the la river.
photo's of the la river:
this is a site of john humbles photos of the la river, as well as the la landscape, life guard station 26, people and editorial. great pictures of the river. a book of john's photographs will be released in the fall of 2006 entitled "Manifest Destiny: Photographs of Los Angeles" and published by the
center for american places.
this is a
great site.
the river project:
an organization dedicated to planning for natural resource protection, conservation and enhancement in los angeles county.
los angeles river connection:
you can find a virtual tour, learn about the history of the river, see some views from the river's edge and related websites.
friends of the los angeles river:
you can sign up to be a friend of the river, learn about some of the programs they have, some history and other links.